Embodiment in Education™
Embodiment in Education™ is an intensive somatic movement education training developed by Susan Bauer that offers an innovative new model of holistic education for the 21st century.
---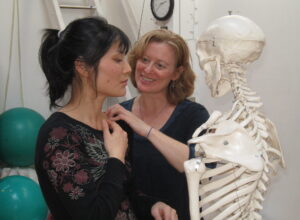 Workshops and training programs in Embodiment in Education are designed for professionals who work with teens and young adults. The curriculum offered in this training empowers students through development of kinesthetic intelligence, mindful awareness, and ecological consciousness that supports individual and community growth. These basic embodiment practices establish the foundation for further skill development in sports, dance, and leisure activities. By examining their cultural perceptions, students also discover their body prejudices, helping them to both respect diversity and gain compassion for themselves and others. This unique, cross-curricular model integrates science, mindfulness, somatic practices, and social and emotional learning.
Now in its tenth year, this professional development training has been attended by participants from across the U.S and six different countries, and has included guest faculty Bonnie Bainbridge Cohen, Deane Juhan, and Caryn McHose.
The Embodied Teen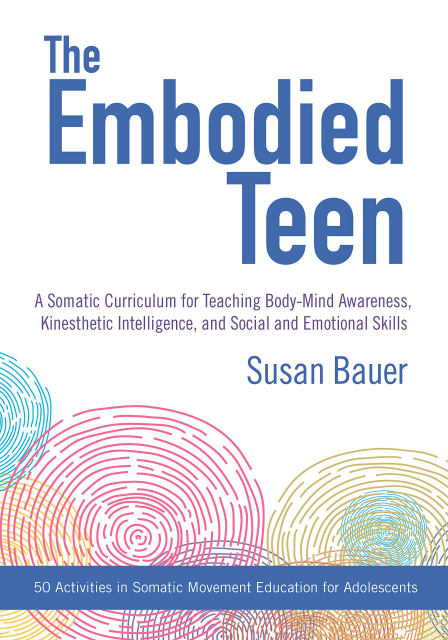 The curricular goals and practices of the curriculum are described in Susan's new book, The Embodied Teen: A Somatic Curriculum for Teaching Body-Mind Awareness, Kinesthetic Intelligence, and Social and Emotional Skills.
"Movement is not something we should outgrow as we move on to "higher" levels of learning; rather, movement and the cultivation of enhanced body awareness should remain central to our education at every stage of life.

As educators begin to establish a context to bring this inspiring somatic inquiry process to our youth, it is my sincere belief that the benefits will expand exponentially through a next generation of more compassionate, whole, empowered, and embodied individuals."

—Susan Bauer, from The Embodied Teen
What is Somatic Movement Education?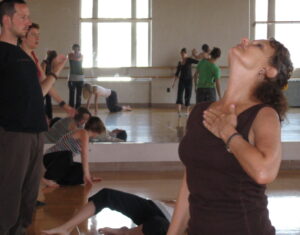 Somatic methods teach us to listen to our bodies. Derived from the Greek word, soma, meaning body, somatic education supports the health of body, mind, and spirit. Somatic movement education practices, often referred to as bodywork, body therapies, and movement re-patterning, represent a variety of body/mind approaches. As we become aware of and learn to consciously re-pattern habitual ways of moving, we activate more of our own innate body/mind intelligence. This begins a process of self-inquiry and learning that empowers us toward more ongoing, sustainable self-care. Read more…
Who attends these trainings and what is offered?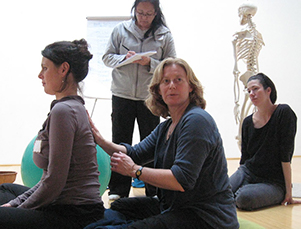 Embodiment in Education trainings are for designed for professionals who work with teens and young adults: middle and high school teachers, movement educators, teen leadership trainers, dance educators, physical educators, yoga teachers, occupational therapists, and all those inspired to usher in a new generation of embodied youth.
Training programs to be offered in 2020-2021 include the Embodiment Basics (Level 1), Embodiment Fundamentals (Level 2) [as described in The Embodied Teen]; and a new Teacher Certification Program.
There will also be shorter introductory workshops for parents, teachers, movement educators, and others who want to learn more by experiencing these embodiment practices for themselves.
Schools and youth programs interested in bringing this training to their faculty, or having classes directly for teen groups, can contact Susan for more information.
Together we can move toward a more vibrant, compassionate, and sustainable world.
Join the Vision
"Susan Bauer's curricular manual is a rare beginning into an important world —how to empower teens to access their own body intelligence and build their resiliency, so needed in these times. Join this thoughtful call to get more holistically involved with our young people!"

—Martha Eddy, CMA, RSMT, EdD, author of Mindful Movement: The Evolution of the Somatic Arts and Conscious Action
The Embodiment in Education programs also provide a dynamic gathering place for like-minded progressive, holistic educators involved in bridging the fields of somatics, mindfulness, and social and emotional learning.
How can I get involved?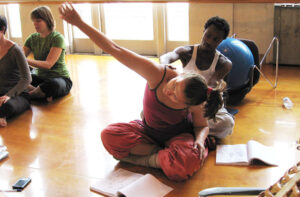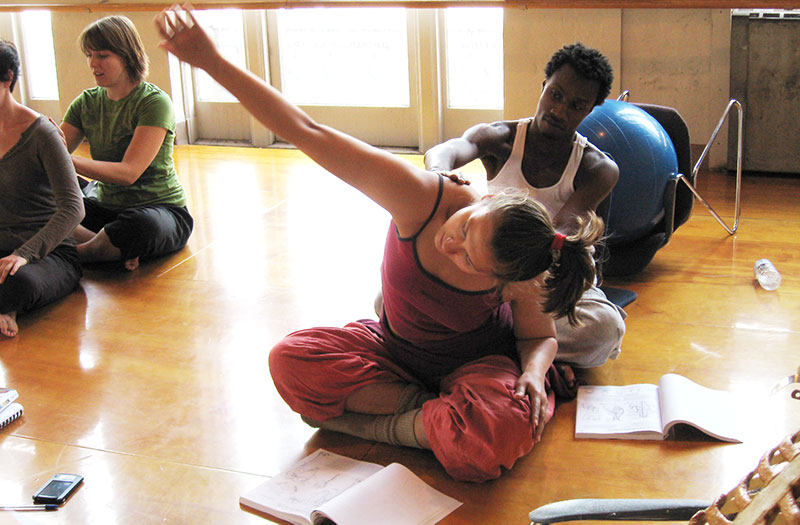 Upcoming Embodiment in Education Events