We take care of what we love.
To develop love we have to make a personal connection.
Take time to slow down, connect with your body, and experience your aliveness.
Susan Bauer, MFA, RSME/T, RSDE
Registered Somatic Movement Educator and Therapist
Registered Somatic Dance Educator
Registry #100134 (RSME) and #107332 (RSMT)
---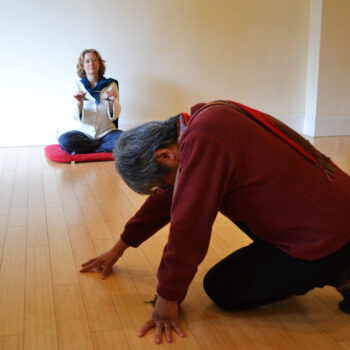 In individual sessions, dive deeper into an integrative somatic experience that helps you enhance your physical, mental, and emotional well-being.
Explore classes and workshops in Authentic Movement, somatic practices, and meditation to center within and expand your inner resources.
Note: All sessions and classes are currently being held online until further notice.
---
In her work with individuals, groups and organizations, Susan supports people through increased self-awareness and body/mind integration that helps to establish a base of life-long well-being.
"In both private and group sessions, Susan creates a vast, sweet, open space for the deepest possible explorations and soul investigations."
—Lucia August, dancer and founder of Everybody Can Dance
"Susan's work goes right to the core. It helps me see myself and my life with new perspective, and inspires me to make small and big changes where appropriate. My whole life has changed since working with Susan! I recommend sessions with her to anyone who wants to reach their true potential."
—Hilary K, dancer and professional chef
"Susan has a unique gift in guiding her students to access their own creativity in an authentic and soulful way. She teaches with warmth, sensitivity, humor, support, great expertise, and love."
—Suvani Stepanek, yoga teacher / Professor, City College