Susan offers a variety of classes and workshops in Authentic Movement, somatic practices, and meditation in the San Francisco Bay area. She is also available to book for workshops in your local community in the U.S. and abroad.
Authentic Movement
Authentic Movement offers a place of mindfulness from which your inner presence emerges–leaving you refreshed and filled with new clarity.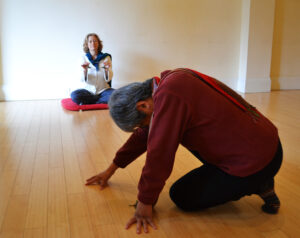 In this self-directed movement practice, movers move with eyes closed, allowing deepened attention to one's inner kinesthetic experience, while the trained witness / facilitator holds the place of a non-judgmental presence and compassionate support. Both the movement practice and related dialogue with the witness after the movement time becomes a vehicle for deepening one's connection to one's body, and more. Read more…
Current local offerings:
Introductory workshops
On-going weekly evening series class
Authentic Movement group for experienced movers – meets monthly (weekends)
Workshops offered in the SF Bay area and available for booking:
Mindfulness in Motion: Authentic Movement as Spiritual Practice
Reset and Renew: Authentic Movement and Meditation
---
Somatic Practices / Experiential Anatomy
"Soma" refers to the body experienced from within.
Somatic Movement Education enhances one's well-being and creates a dynamic, embodied presence that leads to improved physical, emotional, and spiritual health.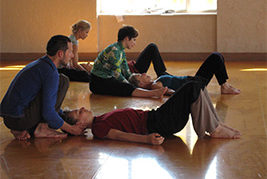 Somatic methods teach us to listen to our bodies.
As we become aware of and learn to consciously re-pattern habitual ways of moving, we activate more of our own innate body/mind intelligence. This begins a process of self-inquiry and learning that empowers us toward more ongoing, sustainable self-care. Read more…
Offerings in the SF Bay area and available for booking:
Introductory Workshops
Group classes in experiential anatomy and somatic health practices
---
Meditation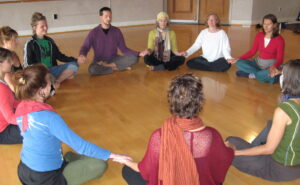 In these classes, we use meditation in concrete, practical ways for gaining insight into our lives.
While meditation can be calming, we can also use meditative practices to learn to make decisions based on clarity vs. fear, and to discern the goals that are most aligned with our deeper spiritual purpose. Through this process, we can both recognize our strengths, and strengthen our areas of weakness. This brings greater balance within yourself, as well as in your interactions with others. Read more…
---
Past offerings have also included: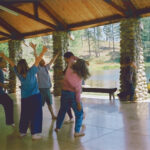 Moving-from-Within™
Moving-from-Within™ is a unique form of group dance improvisation founded by Susan Bauer that blends the structure and philosophy of Authentic Movement with creative improvisation. Read more..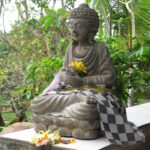 Arts and Spirituality Retreats in Bali, Indonesia
In Arts and Spirituality retreats you learn about and experience the creative practices and rituals of Balinese-Hinduism.