Sunday Workshop – Mixed Level Class (in-person only)
with Susan Bauer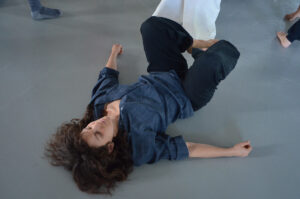 Give yourself this time to settle within, and listen deeply to your own body wisdom.
This workshop is open to those new to Authentic Movement, as well as to those with previous experience. We will begin with a brief introduction to the history and form of Authentic Movement, followed by time to engage in the practice.
About the Practice
In this self-directed movement practice, movement becomes a vehicle for deepening one's connection to one's body. The form itself is profound and simple, and involves a mover and a witness. Movers move with eyes closed, allowing deepened attention to one's inner kinesthetic experience, while the witness holds the place of a non-judgmental presence and compassionate support. This is the journey of Authentic Movement, a form practiced by many since its development by Janet Adler and others (inspired by the work of founder Mary Starks Whitehouse in the 1950's).
About the Workshop
In this workshop, you'll learn basics of the practice that allow you to move with both mindful awareness and a spontaneous responsiveness to your own inner impulses for movement and / or stillness. You'll have an opportunity to move, with time afterward for processing on your own through writing or drawing, and then to speak about the movement experience together. Please wear comfortable clothes to move in, and bring your own drawing / writing supplies.
DATE / TIME
Sunday, May 21, 2023
10:30am – 1:00pm

LOCATION
Berkeley Alembic
2820 Seventh Street Berkeley, CA 94710
REGISTRATION
This workshop is being hosted by Berkeley Alembic Center.
Please go to their EventBrite page to REGISTER
Fee: $55 (Super Early Bird by 5/5); $65 (Early Bird by 5/12); $75 General Admission
Contact Susan at for more information. 
Here's what previous participants have had to say: 
"I have found Authentic Movement to be a deep and powerful practice. It's given me the space to learn more about what is really going on internally, to effectively process challenging issues, and to integrate my body into my emotional and spiritual work.
As a witness and teacher, Susan is extremely intuitive and is impeccable in her approach.  She sets healthy boundaries and offers clear, objective insights.  I have worked with her for over five years and look forward to many more!"
–Laura, Fundraising Consultant
"Authentic Movement has made a tremendous difference in my life.  It truly has helped me to experience life in more satisfying and creative ways.  Susan creates a safe, comfortable space where I feel truly welcome.  For me, a big part of the magic of Authentic Movement comes through Susan and the thoughtful, heartfelt way she leads her group and private sessions."
–Diana, CEO and Massage Therapist
To Susan, with eternal gratitude for your witnessing of my gradual awakening to embodied presence.  Love blossoms for all in the interplay of your shining light and my self-remembrance.
–Susan, Art Therapist
---
Event Category:
Authentic Movement