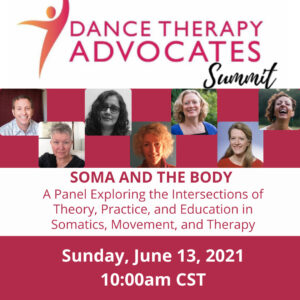 This professional conference runs from June 11-13 and brings together practitioners from more a variety of body-oriented professions–from Dance Therapy to Somatic Movement Education and Therapy professionals, to Expressive Arts teachers–to share ways in which our work impacts health and education. Attendees will explore and learn through in-depth embodied experiences, panel discussions and roundtable conversations. If you are unable to attend the entire live event, each webinar will be recorded, and the recording will be made available for registrants for 60 days after the event.
Whether you are new to somatic movement or an established Registered Somatic Movement Educator / Therapist or Dance Therapist, I hope you will join me at this dynamic online event!
Soma and the Body: A Panel Exploring the Intersections of Theory, Practice, and Education in Somatic, Movement, and Therapy
Day/ Time: Sunday, June 13, 8am Pacific Time; 10am Central; 11am East Coast
Panelists: Dr. Ryan Kennedy, T. Zea Leguizamon, Elisabeth Osgood-Campbell, Susan Bauer, Dr. Rae Johnson, Dr. Martha Eddy, Dr. Isha Vela
This panel is designed to explore the similarities and differences among fields of dance/movement therapy, somatic movement therapy, somatic psychology, somatic education, dance education, and more!  It is starting point for necessary conversation in challenging education and practice standards.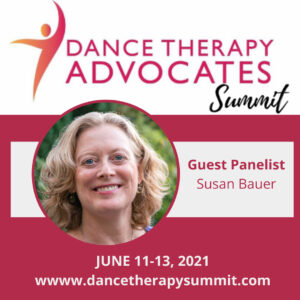 ---
Event Category:
conference
,
Embodiment in Education