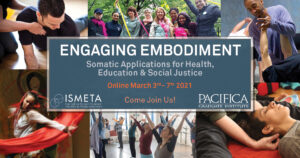 This professional conference brings together more than 100 of the world's leading Somatic Movement Education and Therapy professionals to share ways in which our work impacts Health, Education and Social Justice. Attendees will explore and learn through in-depth embodied experiences, panel discussions and roundtable conversations. If you are unable to attend the entire live event, each webinar will be recorded, and the recording will be made available for registrants to enjoy throughout 2021.
Whether you are new to somatic movement or an established Registered Somatic Movement Educator or Therapist, the conference provides opportunities to dive deeply into our collective wisdom, nourish our creativity, and honor the tremendous growth of the Somatic Movement profession since ISMETA began in 1988. I hope you will join me at this dynamic online event!
See below for workshop descriptions and more information on Susan's presentations:
March 4 & Panel March 6
Workshop / Presentation: Thursday, March 4 (1pm Eastern; 10am Pacific)

Supporting our Next Generation:
Somatic Practices as Social-emotional Learning in Youth Education
with Susan Bauer, RSME/T, RSDE, MFA


In this workshop, participants are guided to experience specific somatic activities based in experiential anatomy, developed over 30 years of working with teens and young adults. This interdisciplinary approach—blending science, movement, and creative practice—builds both proprioceptive and interoceptive awareness. The focus will be on explorations that guide youth to develop somatic awareness, while becoming more conscious of their cultural biases and body prejudices. This leads to greater respect for diversity and cultivating compassion for self and others.
The material is based on the presenter's book The Embodied Teen (North Atlantic Books), the first book to offer a somatic movement education curriculum adapted to the needs of adolescents. Come experience, explore, and discuss how to pass along our somatic lineage to the next generation and empower teens as they navigate the challenges of this pivotal stage of life.
Education Panel: Saturday, March 6 (5pm Eastern; 2pm Pacific)

Moderator: Beth Riley
Panelists:  Susan Bauer, Jill Greene, Emory M. Moore Jr,  Martha  Eddy, Rich Sims 
These 5 experts in the field will discuss the vital need for Somatic Movement across the Educational Arena. Each panelist has extensive experience in weaving Somatic Movement into Professional Development, K-12, and/or Higher Education and will focus on the vital need for somatic movement education to support Social Emotional Learning and other important aspects of development. 

The conference is organized by the International Somatic Movement Education and Therapy Association (ISMETA)
For registration and more information see the ISMETA website
---
Event Category:
conference
,
Embodiment in Education