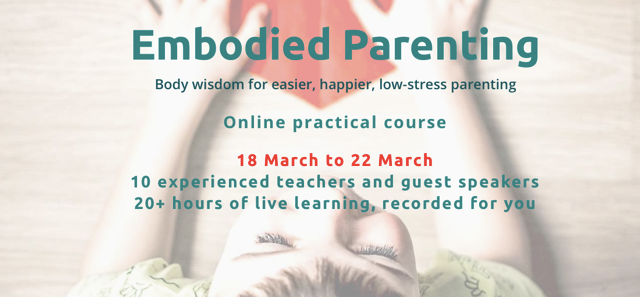 Embodied Parenting Online Course
a 5-day interactive course for parents, caregivers and professionals
Join me, the course hosts Kirstie Seaborne and Jane Dancey, and seven other world-class teachers to celebrate the wisdom of the body for supporting families through challenges and transitions.
The course offers practical ways to help you sustain healthy, dignified and compassionate relationships with young people, supporting you to…
reduce stress and conflict
respond more skillfully to challenging behavior
grow your teen's confidence, resilience and well-being
Throughout the five days, there will be live demos and interactive activities to help you learn and apply new skills to your parenting, when you need them the most. Gain essential skills to grow and sustain your own embodied presence, while helping the youth in your life as well.
(All sessions will be recorded and available to you if you miss any of them!)
Susan Bauer, RSME/T will be presenting material from her book The Embodied Teen: A Somatic Curriculum for Teaching Body-Mind Awareness, Kinesthetic Intelligence, and Social and Emotional Skills (North Atlantic Books, 2018). For more info on the book see www.susanbauer.com/the-embodied-teen
Registration
As a contributor to the course, I can offer an ongoing early bird discounted rate of £99 (Approx. $130).
Learn more about the teachers, supplementary materials, and other discount benefits–and enroll at https://embodiedfacilitator.com/embodied-parenting/
We look forward to having you join us in this important mission to empower adults and youth alike through embodied awareness! 
---
Event Category:
book launch
,
conference
,
Embodiment in Education
,
The Embodied Teen