Watch this short photo gallery video from our October Celebration!
Please join us for a Book Launch Reception for "The Embodied Teen" by Susan Bauer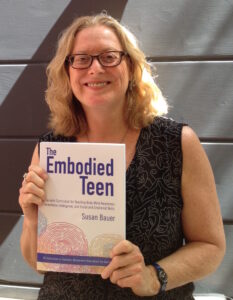 Saturday Oct 27th, 3:00pm – 5:30pm, Berkeley, CA
3:30 Author Remarks and Acknowledgements
Followed by Book signing and Reception (hors d'oeuvres and desserts provided by a cook from Chez Panisse Restaurant)
This event is FREE and is being graciously hosted by SHE Living.
SHE Living, 825 Bancroft Way, Berkeley, CA 94710
Books will be available for purchase onsite
Come celebrate the launch of "The Embodied Teen," the first book to offer a somatic movement education curriculum adapted to the unique needs of adolescents.
Educators, dancers, healers, and practitioners working with teens and young adults are all invited to celebrate and launch this important work into the world. Teens and parents welcome too!
Author and somatic educator Susan Bauer, will be on site to sign books and answer questions. She will also be acknowledging all those who participated in bringing this book into fruition.


Some early reviews:
"How can we care for the life of our world if we haven't learned to experience and care for our own bodies? By showing how to develop kinesthetic intelligence in the teenage years, Susan Bauer's groundbreaking book will have an impact not only on countless lives but on the health and resilience of our culture as a whole."
– Joanna Macy, author of Active Hope: How to Face the Mess We're in without Going Crazy
"Susan Bauer offers educators a dynamic curriculum with clear guidelines for helping adolescents discover ways to enliven their sense of self, recognize and accept the diversity of others, and establish a base of lifelong habits for well-being. This book should be read by anyone who wants to create a trusting and enriching environment for teens."
– Bonnie Bainbridge Cohen, developer of Body-Mind Centering® and author of Sensing, Feeling and Action.
"I hope that many schools will adopt the plan proposed by this important book. It will change things that have gone so far astray."
– Don Hanlon Johnson, PhD, author and founder of the somatics program at California Institute of Integral Studies, San Francisco
"Finally, a first-person guide to embodied awareness focused on teens! Susan Bauer offers not just ideas about moving and communicating but explorations and 'best practices' that have been tested and refined over decades. This book both includes and respects the voices of youth in these critical years of their development. A 'must-read, must own' resource for respecting our bodies and the planet we all share."
– Andrea Olsen, author of Body and Earth: An Experiential Guide
"Although [this book] addresses youth, the material is valuable for any age level. Susan Bauer has written with clarity and interest in a way that any one of us as teachers can find new ideas and inspiration. I would not be without this book as a teacher or a student of dance."
– Anna Halprin, PhD, Co-founder of the Tamalpa Institute
"Susan Bauer's curricular manual is a rare beginning into an important world-how to empower teens to access their own body intelligence and build their resiliency, so needed in these times. Join this thoughtful call to get more holistically involved with our young people!"
– Martha Eddy, CMA, RSMT, EdD, author of Mindful Movement: The Evolution of the Somatic Arts and Conscious Action
Books also available for purchase on Amazon, North Atlantic Books, and other major book sale venues.
The Embodied Teen: 
A Somatic Curriculum for Teaching Body-Mind Awareness, Kinesthetic Intelligence, and Social and Emotional Skills—
50 Activities in Somatic Movement Education
Author: Susan Bauer
Published by North Atlantic Books (July 2018) and Distributed by Penguin Random House
---
Event Category:
book launch
,
The Embodied Teen