What is a Moving-from-Within™ class like?
Workshops include guided warm-ups for inner personal exploration and the development of group awareness. Drawing from her work in Authentic Movement, Body-Mind Centering®, and study of American and Indonesian movement approaches, Susan creates a pathway for participants to connect deeply within themselves, while opening to the creative possibility of the group.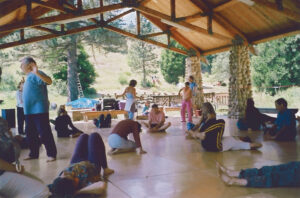 After these warm-ups, we begin our group dances—a unique structure drawn from the practice of Authentic Movement. In Moving-from-Within™, we begin with a bell to mark the opening of the dance and then, after a pre-determined amount of time, we complete the dance with a bell to mark the ending. What happens in-between is what unfolds based on each individual's inspirations and / or interactions in the group. We find that as we each arrive in our center and move from there, we move with integrity and invite the Creative Muse to join us–and magic ensues!
Dances may be celebratory and wild, still and calm, or quite
varied in mood from moment to moment. Music supports this journey.  Though rather than merely riding the energy of the music, we dance from the inner promptings of our kinesthetic sense and deep body knowing of where we are in any given moment.
Similar to the practice of Authentic Movement, after the movement time we gather as a group and discuss our experience. As participants reflect on their experience in the dance, they often gain meaningful insights into their body/mind, habits, or current life situations. We may also discover elements related to our personal or collective unconscious that have emerged in the group dynamic.
---
Testimonials for Moving-from-Within™
"Susan has a unique gift in guiding her students to access their own creativity in an authentic and soulful way. She teaches with warmth, sensitivity, humor, support, great expertise and love."
Suvani, Yoga teacher / Professor; City College
"Susan creates a grounded and safe space where we can freely explore and become fascinated with our own creativity. What she teaches in dance improvisation is unique among the myriad of movement forms being offered!"
Leah Rutherford, Dancer / Choreographer

---
Additional Links
See the Calendar for a current schedule of all classes and workshops.