In this process, you become your own 'lab' to move, experience, and learn from.
---
What is Experiential Anatomy?
Experiential Anatomy is a creative / humanistic approach using movement, touch, drawing, partner work, and creative writing to embody and personalize your learning.  One's experiences become the basis for understanding one's physical body and movement potential.   Susan's embodied approach is based on her study of Body-Mind Centering®, Ideokinesis, and Bartenieff FundamentalsTM.
Experiential Anatomy is essential for dancers, dance teachers, yoga teachers/ practitioners, bodyworkers, movement artists, therapists, presenters, business leaders, and those interested in deepening their connection to their body/mind.

---
Testimonials for Susan's Experiential Anatomy workshops:
Susan Bauer is a wonderful asset to the local dance scene, and her class in Experiential Anatomy is not to be missed! She offered our students invaluable information in an interesting and inspiring manner that visibly changed their dancing in a matter of hours.

Ron Stewart, Director, Moving People Dance Theater
Susan's Experiential Anatomy class is a fusion of hard-core anatomy and in-depth awareness of our own anatomy through actually experiencing our body systems (bones, muscles, fascia, organs, etc.) through movement. I loved it! All studios should make Experiential Anatomy a mandatory class for their teachers.

Rima Miller, Director, Yoga Moves
Susan's experiential anatomy class was a wonderful introduction into this unique field. What a fascinating way to learn about my body, how it works, and why it works–a hands-on way to tap into my own experience. It makes our inner landscape come into focus and brings it alive!

Leslie Davis, Yoga student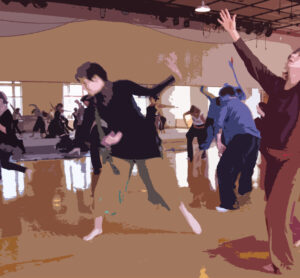 ---
Additional Links