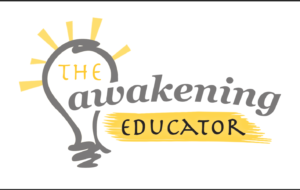 The Awakening Educator Podcast
Note: THIS EVENT WAS RECORDED AND IS STILL AVAILABLE TO VIEW ON FACEBOOK
Friday, June 10th
4:30pm – 5:30pm Pacific Time
HOW EMBODIMENT SUPPORTS OUR WELLBEING
Interview with Susan Bauer
Join us for an interactive dialogue with Podcast Hosts Megan Sweet & Susan Andrien, and Guest Susan Bauer

This show dives deeply into topics relevant to education with co-hosts Susan & Megan; two lifelong educators who bring their skills, curiosity and unique perspectives to the topics most relevant to educating youth in today's complex world.
Susan Bauer, RSME/T will be discussing her approach to education, including material from her book The Embodied Teen: A Somatic Curriculum for Teaching Body-Mind Awareness, Kinesthetic Intelligence, and Social and Emotional Skills (North Atlantic Books). For more info on the book see www.susanbauer.com/the-embodied-teen
We look forward to having you join us in this important mission to empower youth and adults alike through embodied awareness! 
---
Event Category:
Embodiment in Education
,
Somatics
,
The Embodied Teen