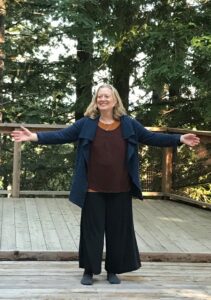 In embodied anatomy, your own body becomes the 'lab' to explore and learn from—through movement, touch, and creative methods such as drawing or writing. Exploring specific body systems helps us gain inner vitality and support, as we learn to slow down, arrive, and move from within.
Each class encourages individual research and personal discovery. Through both quiet inner sensing and active dynamic movement, we explore a range of expression and invite whole body integration. We'll also practice somatic activities to free our breathing and encourage restful recuperation. Through these practices, we integrate body and mind, calm the nervous system, and emerge refreshed and energized.
Dialoguing about our various experiences of the practices reveals our commonalities and differences—creating a deep personal and community journey.
This class is part of the Somatic Series curated and offered by the Alembic Foundation. Classes are open to experienced movers and beginners alike.
[Attendance at all 3 classes is encouraged; tickets for individual classes are also available.] 
Schedule:
Monday nights, 6:30 – 8:30pm
November 14, 21, & 28
Come join me in person!
Location:
Berkeley Alembic Center
2820 Seventh St, Berkeley CA
REGISTRATION
Please go to Eventbrite to register.
Tickets are $40 per class or $100 for the series.
[Note: There are also some "supported" tickets available for people with lower incomes.]
Safety protocol: For the health and safety of us all, masks are required, and participants are asked to take a Covid test on the day of the class they attend and show evidence of a negative test result.
Please see the Eventbrite Event page for more information or contact the Alembic Center, Berkeley, CA.
Can't attend in person but interested in embodied anatomy?
Here are upcoming online programs:
EMBODIMENT ESSENTIALS:
December 3 & 4, 10 & 11, and 17 & 18
Limited to 12 and a few spaces left! This course is also the pre-requisite for the teacher training program.
EMBODIMENT IN EDUCATION TEACHER CERTIFICATION TRAINING
---
Event Category:
Embodiment in Education
,
Somatics