Somatic Approaches to Building Body-Mind Awareness, Kinesthetic Intelligence, and Social and Emotional Skills
With Susan Bauer, MFA, RSME/T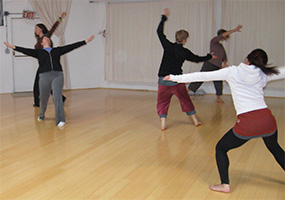 Monday – Friday, 10:00am- 4:30pm;
(Wedn. 10am – 1pm only)
Berkeley, California
NOTE: New 3-day option for attending Tues – Thursday only; registration open now, call or email for details!
Join Susan Bauer, dance / somatic educator and author of The Embodied Teen, to explore experiential and student-centered methods based on experiential anatomy. This unique curriculum models a respect for one's body that empowers participants through kinesthetic awareness and the development of a healthy respect for self, others, and the planet we all share.
In this week-long program, you gain essential skills to grow and sustain your own embodied presence and cultivate the wisdom of the body through somatic practices. These activities can deeply enhance our lives in these extremely challenging times. As educators, we can also learn to bring these inspiring experiences to our youth to support their sense of agency, community, and purpose.
Workshop Description
"In teaching embodiment practices, your physical presence will speak louder
than your words."
– Susan Bauer, The Embodied Teen

We can truly only begin from where we are.
This introductory workshop focuses first on your own embodied process. As you gain experience with these somatic activities, you settle into yourself more deeply and gain insight into your own patterns and potentials. You also get to enjoy some time for yourself to move, play, draw, and write to personalize your learning. Partner work and group discussions allow for sharing in community, as we learn from each other.
This process can have a powerful impact on how you feel about yourself, as well as how you show up for your students. In teaching embodiment practices, your physical presence will speak louder than your words.
Activities will draw from both the Embodiment Basics – Level I and Embodiment Fundamentals – Level II, as described in The Embodied Teen, to experience the scope of the curriculum.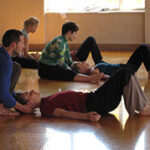 For those wanting to integrate some of these experiential activities into their own teaching, we will also discuss core issues to consider when offering somatic education to young people (as discussed in the 8 Key Pedagogy Principles outlined in The Embodied Teen).
This week-long program also provides an opportunity to discover if you are interested to pursue more extensive upcoming programs / certifications to prepare you to teach the full curriculum. These additional programs will focus more specifically on pedagogy, such as using embodied language, creating a safe container to teach intentional touch, and essential aspects to consider in leading each of the 50 explorations. You will also learn ways to expand the curriculum to integrate your own unique skills and background. (Read More)
Who should take this workshop?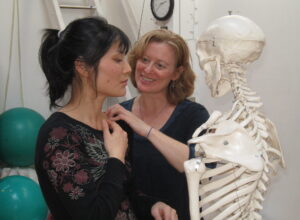 This workshop is ideal for practitioners and teachers of dance, yoga, martial arts, physical education, theater, or other movement forms, as well as dance therapists and physical / occupational therapists, and others who work with young people.  Previous somatics / anatomy background is helpful but not required. Although geared toward professional educators, the workshop is open to all those with an interest in somatics or dance / movement education.
Note: This workshop, and / or other somatic training, serves as a pre-requisite for further Embodiment in Education teacher trainings.
Where does the workshop take place?
The week will be spent in a lovely spacious wooden floor studio in the 4th Street district of Berkeley. There are many restaurants and shops within easy walking distance for our lunch breaks, as well as the Berkeley marina just a few blocks away. A portion of our time may also be spent outdoors, engaging in ecosomatic activities by the Bay, weather permitting.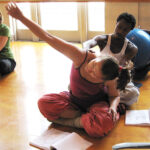 Registration:
Registration is by application.
Your application allows you to briefly discuss your movement / somatic background and your intentions for taking the workshop.
Space is limited to 18 participants. Download the application here.
Tuition:
$785; $750 (early registration if application received by June 3rd); full payments due by June 17th.
[Payments can be made by check or Paypal; $150 non-refundable deposit due with application. See application for details.]
Note: Two work-study positions may be available for a further discount. Please contact susan@susanbauer.com if you are interested in these positions to receive information on how to apply; preference is given to graduate students or younger professionals.
More information:
For more about Susan's work and background see her bio.
For more information about this workshop contact susan@susanbauer.com
Be sure to join our newsletter to receive updated information on this and other upcoming programs!
---
Event Category:
Embodiment in Education
,
The Embodied Teen