Saturday, June 6th
11am – 12:30pm Pacific Time
2pm – 3:30pm Eastern Time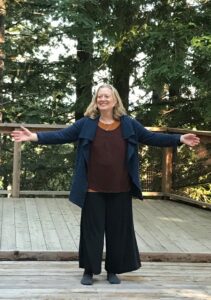 This class will be an introduction to Susan's upcoming class series Center Within: Somatic Practices for Well-being. In these challenging times, how do we find our center and our balance in the midst of it all?
Coming home to your body, you can begin where you are.
In these classes, you learn simple practices you can continue to do at home to re-instate a sense of calm in your nervous system. This supports you to feel better, as well as to see clearly what is before you so you can respond rather than react.
One step at a time you regain a sense of stability in these uncertain times, from deep within yourself.
DETAILS
We will meet on Zoom, within the privacy of your own home, generally with our cameras off during the activities so you can explore the activities on your own. At the end of the guided session, there will be a brief time to re-group to check in, ask questions, or share your own experiences.
REGISTRATION 
Please go to Eventbrite to register. Class size is limited so sign up soon! 
Once you register on Eventbrite, you will be sent the Zoom link, meeting ID, and password information for the Zoom series or individual class. Be sure to check your confirmation email by scrolling down to the "More Information" section.
LEARN MORE AND REGISTER HERE FOR THE FULL THE SERIES.
Please see the Eventbrite Event page for more information.
---
Event Category:
Embodiment in Education
,
Somatics