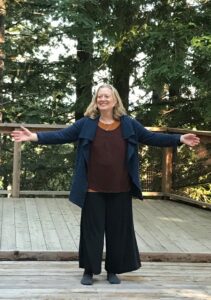 Take some time for yourself, to center within. 
In this session, we will practice a few basic somatic activities to free your breathing and activate parasympathetic nervous system recuperation. These practices help you to integrate body and mind, calm your nervous system, and emerge refreshed for your day.
Schedule Overview: 10am-11:30am Pacific
10am – 11am – Somatic Practice; followed by group discussion
11am – 11:30am – Overview of Upcoming Programs and Q & A
Come join me on Saturday!
DETAILS
We will meet on Zoom, within the privacy of your own home, with an option to put your camera off during the activities so you can explore the activities on your own. At the end of the guided session, there will be a brief time to re-group to check in, ask questions, or share your own experiences. After the class, we will have a discussion of the upcoming programs and time for you to ask any questions you may have about the offerings.
REGISTRATION 
Please go to Eventbrite to register.
Fee: This session if offered free and by donation; please feel free to pay any amount. 
Once you register on Eventbrite, you will be sent the Zoom link, meeting ID, and password information for the Zoom series or individual class. Be sure to check your confirmation email by scrolling down.
Please see the Eventbrite Event page for more information.
Still deciding about our next course offering?
Here are the online programs we will be discussing:
EMBODIMENT ESSENTIALS:
December 5 & 6, 12 & 13, and 19 & 20
Limited to 15 and a few spaces left! This course is also the pre-requisite for the teacher training program.
EMBODIMENT IN EDUCATION TEACHER CERTIFICATION TRAINING:
January 16 – July 7, 2021
Registration for Module I is now open; limited to 15 for individual attention and personal feedback.
---
Event Category:
Embodiment in Education
,
Essentials
,
Featured
,
Somatics