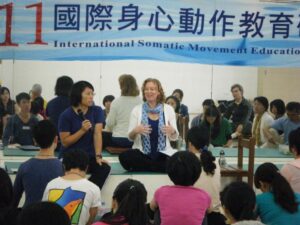 Just back from Taiwan and wanted to share a bit about this inspiring trip with you!
I was teaching at Taitung University in their Somatics and Sports Leisure Department—the first undergraduate degree in the world in Somatics!! They have two tracks, one in Somatic Movement Education and one in Hands-on/Massage.
There are about 120 students in the department, and this year they will graduate about 20 students in their first graduating class! They are very talented, motivated, and inspired about somatic education.
Oh yes, and then, I was also teaching at the 3-day 2011 International Somatic Movement Education Symposium hosted at the University.
My pre-conference workshop in Embodiment in Education was attended by 45 professionals—in dance, physical therapy, Pilates, Gyrotonics, and other movement fields. A wonderful group—see photos on my Embodiment in Education Facebook page.

Then during the conference, I taught workshops in Experiential Anatomy and in Moving-from-Within(TM) to the group of over 100 educators from all over Asia. My first time with a translator and a 'body-mike'. 🙂
Wonderful group and so inspiring to see their openness to learning and sharing together.
The conference was run by the Somatic Education Society of Taiwan. ('Like' their Facebook page here! There are also lots more photos posted on their page.)
I feel so honored to have been invited, and so thankful to be a part of this growing community!
Thank you, and many blessings for a movement-filled summer!
Susan
---
Department Founders!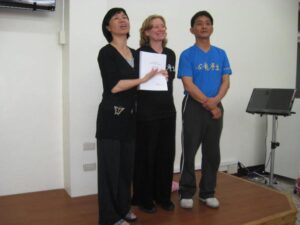 These are the Department Founders, Professor Mei-Chu Liu and her husband Professor Dah-Feng Lin. Mei-Chu is a Certified BodyMind Centering(R) teacher and both hold PHd's from the Somatics Department at Ohio Sate University, USA.
Here, I am presenting them with a copy of my curriculum, A BodyMind Approach to Movement Education, for their library.
You can order a copy of Susan's book here.
---
Closing Circle of the Conference!
---
Quick Links