Next Workshop: Check back soon for 2017 dates!

Week Intensive
June 27 – July 1, 2016
Monday – Friday
9:30am – 5pm*
*(approximate; see Daily Calendar for a few variations)
Faculty: Susan Bauer, MFA, RSME/T

Location: Berkeley, California
---
Course Topics and Descriptions
The main course for the Embodiment in Education Intensive Workshop is the following:
The Mindful Body™: Experiential Anatomy for Teens and Young Adults (Susan Bauer)
Additional support courses in this intensive include the following:
The Body Politic: Touch and Movement as a Social Force
Group Process Lab
Integration Class
Professional Application Lab
For your reference, you can also see the Daily Calendar of classes in the program.
---
The Mindful Body™: Experiential Anatomy for Teens and Young Adults
Experiential Anatomy is a creative / humanistic approach using movement, touch, drawing, partner work, and creative writing to embody and personalize your learning. In this process, you become your own 'lab' to move, experience, and learn from. This embodied approach is based various somatic movement modalities and innovative pedagogical approaches.
How can we engage teens and young adults with this valuable material in a way that is both accessible and meaningful to students themselves? How can we help them to develop greater kinesthetic awareness and increased mindfulness? This course is an introduction to a curriculum in Experiential Anatomy designed to address these questions – thus providing a base for students to discover more about themselves, their movement patterns, body mind relationships, lifestyle choices, feelings, and connections to themselves and others. By engaging in this work, students gain valuable tools that enhance their dance / movement experience and contribute to improving the quality of their adult lives.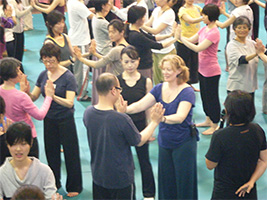 Developed by Susan Bauer, the curriculum is based on twenty years of working with teens and college age adults as a dance educator, along with extensive studies of Body-Mind Centering® with Bonnie Bainbridge Cohen, Ideokinesis with Irene Dowd, and Experiential Anatomy with Andrea Olsen and Caryn McHose. Susan is the author of 'A Body-Mind Approach to Movement Education'.
---
Additional Topics
The Body Politic: Touch and Movement as a Social Force
Despite the proven necessity of touch and movement to human survival, our contemporary society maintains a complex, often fearful relationship with touch and movement. Especially in regard to education, our society has had to ask itself hard questions: What happens to children when no distinction is made between friendly and harmful touching? And yet, could it be that learning to touch each other in healing, positive ways is indispensable to integrated learning for the individual and to productive change in society as a whole? How, then, can we facilitate such explorations in a safe and supportive manner? This session is designed to ask the difficult questions necessary to begin to address these issues.
We will draw from the work of various educators and somatic practitioners, such as Deane Juhan, who has been a professional bodyworker for thirty years and is the author of Job's Body: A Handbook for Bodywork andTouched by the Goddess: The Physical, Psychological and Spiritual Powers of Bodywork.
---
Group Process Lab
In these sessions, participants engage in large and small group discussions as a means to delve more deeply into specific philosophical, educational, and/or pedagological issues that have emerged from within the group. This approach empowers participants to share the wealth of experience and knowledge they bring as movers / educators to each other and to gain community support for their questions and ideas.
---
Integration Class
This class provides an active, physical embodiment of the material studied thus far through self-directed, improvisational activities. As we remember that the time to 'digest' is just as important as the time to 'take in', we can enjoy the process of allowing the space and time for our bodies, minds, and spirits to be informed by our experience.
---
Professional Application Lab
This session allows participants to practice applying the material from the week to their own specific areas of interest.  Participants also bring specific application questions to the group and / or faculty for consideration. Session includes participant-led movement activities, facilitated discussion, and group feedback.
---
Tuition and Registration Information
Tuition: $750
Early registration – $695 (until May 2nd, 2016)
($150 non-refundable deposit due with application.)
[Tuition includes 5 days, all related handouts, and an hour follow-up consultation by phone or Skype]
Returning Participant tuition at 30% off: $525
*Note: This tuition option is only available for those who have previously completed the Embodiment in Education week-long course in the past.  [Tuition includes 5 days, all related handouts, and a 1/2 hour follow-up consultation.]
Note: Full payments for all workshops are due in full by May 20th, 2016
APPLICATION DEADLINE: May 15th, 2016* (Deadline now extended to June 1st!)

*Applications may be accepted after this date if space is available.  However, space is limited so it is recommended to apply as early as possible!

Special Discounts:  One to two work-study positions may be available for reduced tuition.  These positions go quickly; please send a short email request if interested and you will receive directions on how to apply.   Please note, these positions are financial need based and are intended for those who might otherwise not be able to attend.
Registration Information
To register, download and complete the Application (PDF file format or Word document) and send that in along with your required deposit. (See application for mailing address). Please allow one to two weeks for processing. Upon acceptance, you will receive further workshop information such as studio location and required texts.
For your reference, you can also see the Daily Calendar of classes in the workshop.
Embodiment in Education is a fiscally sponsored project of Dancer's Group. (not active in 2016)
Note: You may donate to the Scholarship Fund through Dancer's Group, a 501C-3 non-profit organization. (not active in 2016)
---
Additional Links
See Products to order Susan's curriculum in Experiential Anatomy / Embodiment in Education.
See Calendar for all upcoming workshops
Join our Mailing List to receive notification of upcoming workshops and related events.